Legal Videography
Videotaped Deposition – Available in any format.  Most popular are DVD or DepoView Synched.
Synched format features:
View video transcript testimony and create clips – it's as easy as using a highlighter!
Use keywords to search through transcripts and jump directly to specific video segments
Review linked exhibits related to the deposition
Print full page or condensed versions of the transcript
Export clips with synchronized text to Microsoft® PowerPoint®
Present video in full-screen mode
Take snapshots of any frame in your video
Export synchronized video depositions with linked exhibits to other major programs such as TrialDirector, LiveNote®, and Summation®
Copy and paste key testimony excerpts for use in summaries, motions, and briefs
Create single and multi-segment clips; edit multi-segment clips to 1/10th of a second
Email video clips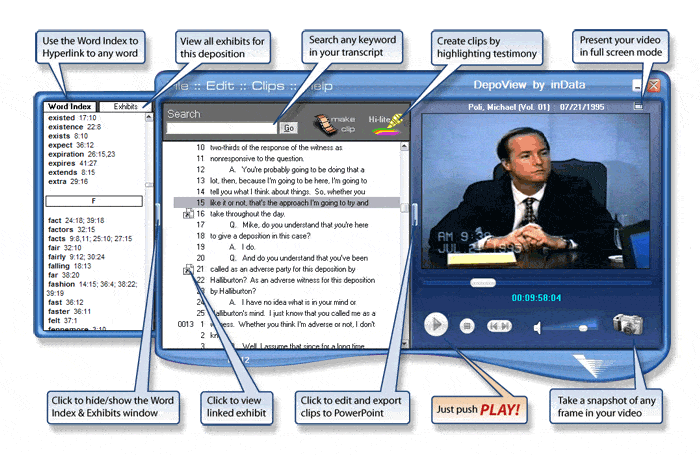 Click to read the DepoView and DepoView-for-iPad-Brochure.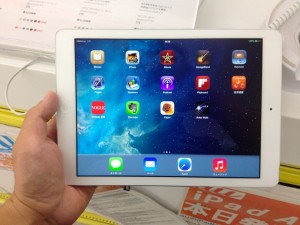 DepoView for iPad
Want to review depositions from your iPad? DepoView users can now easily import their depositions to the DepoView app and review or make clips while away from the office.
Designed for use on any generation of iPad, DepoView for iPad makes working with depositions a snap with some of these easy-to-use features:
Create and manage multiple case folders
Import Timecoder™ Pro transcript and video deposition files through iTunes®
Easily navigate depositions by page, by keyword search or by tapping on any portion of the transcript
Read associated transcript text as it scrolls with your video playback
Create single or multi-segment clips with an easy-to-use highlighter
Quickly review and edit clips for precise begin and end points
Share edited clips with others via email in either an MPEG-4 (H.246) format or the Clip Creation Script (.CCS) format for quick import into TrialDirector
For more information about DepoView for iPad or to GET YOUR FREE APP TODAY, visit the iTunes App Store.