Frustrated by limited reporter availability and long turnaround when taking depos in rural areas?  So are we.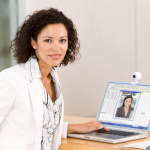 Elizabeth Gallo Court Reporting has launched our Web-Enabled Remote Depo Pilot Program.
Questions?  E-mail us:  Web Depo Questions
How it works:
1. Local counsel to appear at EGCR's Atlanta office, Location A.
Location A:   Elizabeth Gallo Court Reporting, 2900 Chamblee Tucker Road, Bldg. 13, Atlanta, GA  30341
2. Witness and relevant parties will appear via web cam, along with EGCR's local notary representative when required, at Location B.
Location B:   Anywhere, USA, as long as the witness has a web-enabled laptop
Benefits: 
Save cost of traveling.   Stay in Atlanta.
Use of our metro-Atlanta vetted reporters with consistent turnaround and dependable quality.
Free raw footage recording in mpg format of web conference available within 24 hours.